Swindon Community Choir and Shaw Farm Singers
Dates for 2021: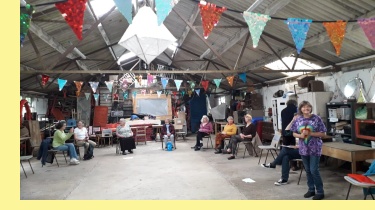 Singing in person
in the big, well-ventilated cow shed, (with plenty of seating and space). We have two lovely end of term celebratory singing sessions left at Lower Shaw Farm before our summer break. News will follow about meeting in late August.
Monday 12th July
starting 7.30pm
Tuesday 13th July
starting 2.00pm.
Both sessions are for an hour and a bit! and are £5 each.
Please contact Linda to book your place (especially for Monday!).
Monday nights from September 2021
We will resume regular sessions on the 2nd and 4th Mondays of each month (so 13th & 27th).
Email Linda:
singhappy@hotmail.co.uk
or phone 07570 811873 for further details.
Shaw Farm Singers
is a friendly and informal group who meet on
Tuesday afternoons
at
Lower Shaw Farm
. The emphasis is on singing lovely harmony songs simply for enjoyment of singing together.
We sing a variety of songs - pop, folk, gospel, world songs and more - so something for every taste. A relaxed approach focused on singing for pleasure - no experience needed, no auditions and ability to read music not necessary.
You are welcome to come and join in